A Stride towards achieving efficient and sustainable transportation systems. A Case of Channel Street - Kampala.
If you want to tell a city's character, walk its streets and visit its urban parks. In every city, public spaces are the podiums, "a stage" where the city's identity is portrayed. They form the backdrop over which the city unleashes its drama. Therein you'll have the city on a stage, performing to you what its core values are. A healthy city shall always portray a sense of "celebration of the person", after all, it is people who make spaces, places. However, an unhealthy city will have its focus diverted to something different, the car, and individualism.
Streets are the most intricate public spaces, connecting "diverse areas of the city, weaving the urban fabric" (Jane Jacobs, 1960). These are the platform over which all the city's characters come into play. Kampala, the capital of the pearl of Africa! What urban fabric do our streets give off?
Kampala has a great deal of street life, our streets are rich with activity, drawing people from all walks of life; slay queens and kings catching up on some dates, businessmen and women, children, the elderly, physically challenged – the native and the tourist.
The roads in Kampala, so to say, have to a greater extent negatively defined its identity. Save for the commendable works on Namirembe Rd. and Luwum St. (the NMT pilot Kampala), many of the streets in the CBD have turned "people gathering places" into competing avenues between human flesh and steel. Blame may be thrown to the users; the taxi and boda-boda motorist, the private car owner, or the pedestrian but as urban designers, we beg to differ. It's is proof that many a time, people's behaviors are influenced by the spaces around them. The design of the streetscape will inform how its users operate while on it (NACTO,2015).
Kampala is a growing business hub in the sub-Saharan region. Being a major host of activities, it needs to have more "people-centered" streets. The business in the city will pull the people to itself, and the street life will keep them there.
Following immense study and research by UNEP and MoWT, the NMT Policy (2012) was proposed and adopted for Uganda. Its primary objective is to increase the recognition of walking and cycling in transport planning and design through the provision of safe infrastructure for pedestrians and cyclists. Unfortunately, to date, many of Kampala's roads have no infrastructure specifically designed for use by bicyclists, and pedestrian facilities are hardly given any preeminence in design and maintenance. The focus of transport planning in the city is vehicle-centric.
Take a case of Channel Street, a 15m wide one-way street in downtown Kampala. Of the 15m, this street is currently having about 12m tarmacked off for vehicular use including a dual carriageway of 6m and a 3m angle parking bay on either side of the street. The 1.5m of sidewalk on either side is encroached on as a display area for nearby shops leaving the pedestrian with scarcely any walking room. Many of the pedestrians, despite their physical capacity, have to maneuver the parked and mobile traffic on the roadway.
The density of vehicular traffic (89% composed of commuter taxis).
Pedestrians mainly use the driveway.
Roadside shops overflow onto the streets to display merchandise
Pedestrians mainly use the driveway for their circulation.
A survey conducted on the street between 5th – 10th October 2021 revealed that the majority of the road space is currently being used as a taxi park yard for loading and offloading passengers. For example, of the 46 vehicles found parking on the street on 6th.10.2021, forty-one (41) were taxis. That is; 89% of vehicles currently occupying the street are taxis.
Why is this good news?
The reason the taxis were there is because of the ongoing renovations of the old taxi park (OTP), therefore they are temporarily using that space. In other words, on completion of the OTP, there will be a vacuum created on this street. It is important to note that vehicular traffic is not a solid that stays at the same volume in the presence of 'more space', on the contrary, it's like gas, adjusting its properties to occupy any available space if not controlled. This article comes as a highlighter of a possible opportunity to reclaim part of Channel Street to promote sustainable mobility within the CBD.
As urban designers, we'd like to advise. We believe that giant strides towards achieving a more people-friendly environment in Kampala can be taken more quickly and efficiently through adopting tactical urbanism approaches in the city. With just some 'cheap to acquire' materials such as paints, old car tires, planters, traffic cones, and delineator posts, a well-done, publicly informed design, and a positive political will, Kampala can transform its streetscape into places that celebrate its people more than the car.
This is referred to as tactical urbanism or Do It Yourself (DIY) urbanism – an approach to community building using short-term, low-cost, and scalable projects intended to catalyze long-term change. "Tactical urbanism utilizes direct, low-risk, and low-cost action to inform and help cities and citizens catalyze long-term social and physical change" (HBSA, 2013). The reason it is called DIY urbanism is because of its ability to phase city transformational projects and break them down into simple, cost-effective steps that members of a local community alone can afford to put in place.
Therefore, with the use of tactical urbanism approaches, KCCA can be able to achieve better mobility zones at a low budget while soliciting funds to actualize the project and make it more permanent in the future. These interim designs help the authority study possible alterations that need to be done to the design before a more permanent solution is engineered in place. Having evidence of how a project will affect a community before it's actualized can also serve as a handy asset when applying for funding from development partners.
A post-field exercise was carried out to have a possible interim design that could be adapted to serve a purpose of a sustainable, attractive, and efficient transportation corridor on Channel street. Through the use of tactical urbanism approaches, this design can easily be actualized and studied for improvement alternatives in the final more permanent solutions.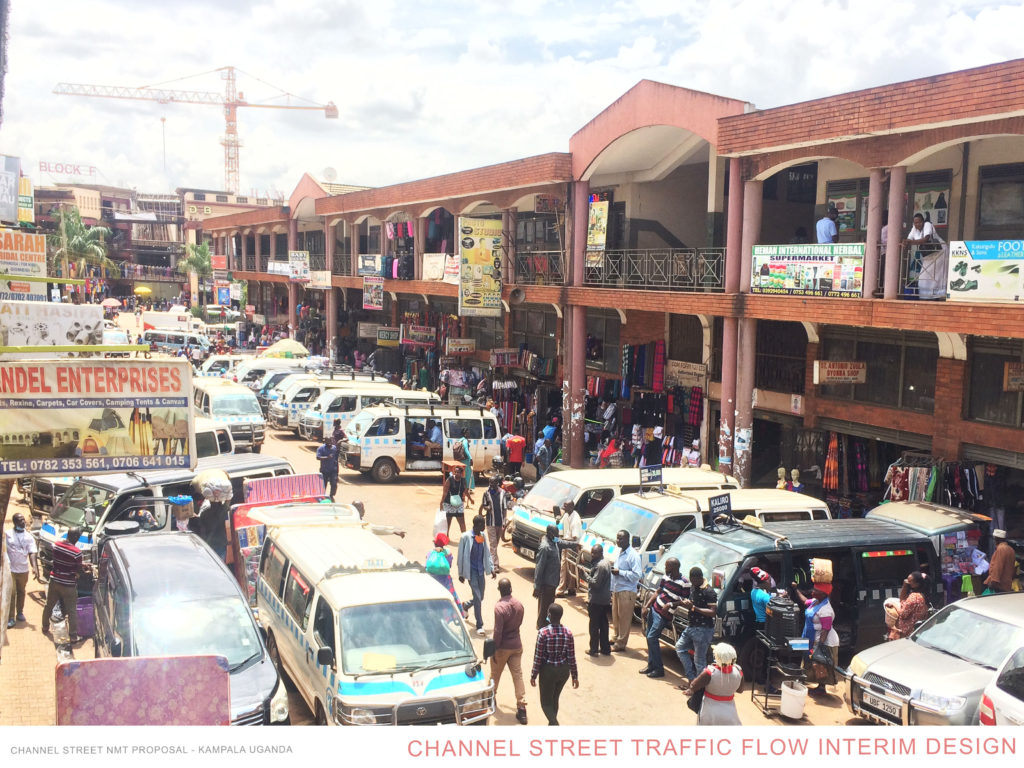 Dear Kampala, what character would you prefer to convey to your inhabitants and visitors, the hooting taxi, whaling Boda boda rider, bossy track driver, or, the beautiful lady taking a selfie beside the street, a group of young lads relaxing and conversing about their latest conquests, the businessman sipping on a coffee by the roadside, and the elderly woman relaxing on a bench in the cool and refreshing wind given off by the plants in the urban verge. The possibility of the latter looms all around us; opportunities to deliver quality services to the city and make Kampala a vibrant attractive and sustainable city.